Jobs
Student CV Templates
Student CV Templates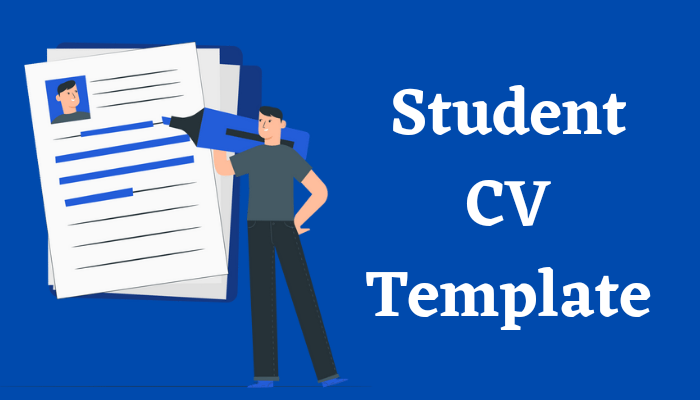 Are you searching for student CV templates online to practice writing your first CV as a student? If you need CV examples for students to help out with this process, then this article is for you, as it contains good resume examples, and provides access to pdf free downloads for student resume samples.
You probably have been dreaming of getting into medical school, or searching for your first job as a fresh graduate. The bad news is that there are many other students like you with the same aspirations and ambitions. Nevertheless, there is light at the end of the tunnel, as you can stand out from the competition with writing a good CV to impress recruiters.
Take a ride with us as you will learn:
What is a student CV?
Parts of student CV
What you should not include in your student CV
Formatting CV for students
Examples of CV for students
Medical students resume example
Engineering students resume example
Law students resume example
Business students resume example
Pharmacy students resume example
Nursing students resume example
Computer Science students resume example
Geology students resume example
Biochemistry students resume example
Mass Communication students resume example
Political Science students resume example
Film students resume example
Fine Arts students resume example
Biology students CV example
Business and Management students CV example
Civil Engineering students CV example
Economics students CV example
Hospitality Management students CV example
Journalism students CV example
Zoology students CV example
Software Engineering students CV example
Conclusion
What is a Student CV?
A CV (curriculum vitae) is a marketing document that contains contents geared towards your interest and growth in your area of discipline, and in turn, depicts academic prowess and career growth, meant to persuade a person in authority that you are most eligible for a position.

Parts of Student CV
To write the best possible CV for students, it is advisable for one to look out for student CV templates to ensure that their CV is well structured and pleasing to the eyes of recruiters.
Here are some vital contents that should be included in a student CV:
Contact information
Your full name should be in a large font at the top of the page. Below your name, include your current address (remember to keep it up-to-date if you're moving soon), email address and contact phone number.
Personal statement (optional)
Your personal statement should simply state who you are and what type of work you are looking for, in not more than two sentences.
Education section
In this section, list your most recent education first (i.e. university), then A Levels (or equivalent). Remember to include the name of each school, university or other institution, as well as the years that you attended. If you're an undergraduate, you can still include your expected degree classification and share any previous year grades if you have them. It can also be a good idea to list some key modules that you've taken, especially if they demonstrate your relevant knowledge, skills or interest in a certain job role. After this, you should include all of your A level subjects and grades.
Experience section
This is the section where you can show off the experience you've gained over time. This may seem a little overwhelming because you may feel that you don't have much to show for here. However, you should be too bothered about that because things like volunteer experience also count. You can also add your internship experience to your CV, as long as it is relevant for what you are applying for.
Skills
You might be called upon in an interview to defend whatever skill you put in this section, so don't make anything up and have relevant examples ready in case you're asked. Here's a sample list of skills that you can use for your student CV:
Communication
Organizational skills
Critical thinking skills
Interpersonal skills
Conflict resolution
Teamwork
Problem-solving
Decision-making skills
Adaptability
Computer skills
Technical skills
Leadership skills
Awards and honors
If you don't have that many awards or honors or they're strictly academic, feel free to just mention them in the education section of your student CV. However, if you have more than just a handful of honors or awards, then you can create a separate section for them in your CV. This is especially a great idea if your awards don't specifically tie into your education.

Additional Courses and Certifications
This may look like a miscellaneous section, but remember, relevance is key to writing a good CV for university application. This is a great section to add in proof of relevant skills and knowledge that don't really fit in anywhere else and would run the risk of getting overlooked. E.g. Fundamentals of Digital Marketing specialist, American Red Cross certified lifeguard.
Hobbies and interests (optional)
You need to be selective about which hobbies to include in a CV, as this section is your opportunity to show what you do outside of work and give the employer another insight into your character. If you need to include your hobbies, keep it short and avoid obvious things such as "reading" or "socialising". Hobbies such as playing instruments, and going on tour, are much better options that could make you stand out from the crowd.
References
You should have a reference section to conclude your student CV. It is acceptable to put "References available upon request" to save space, but it does work in your favour if you can provide two contacts straight away. However, you should always ask the relevant people for their permission before citing them as a reference.

What You Should Not Include in Your Student CV
A student looking to write a CV for undergraduate application, or for a second degree should be mindful of some common errors people make when writing a resume. Here are 5 things you should not include in your student CV.
Your age
Adding your age to your CV isn't really necessary because it is better not to provide any information that could work against you. If the role you are applying for has age-related requirements, you can simply state that you meet them and don't go into any more detail.
Bad review about a former employer
When writing your resume, omit any details about why you left a job or, if still employed, why you're dissatisfied with your current position. You might include a statement about the kind of role you are looking for, but keep it positive.
Spelling or grammatical errors
Ensure that you double-check the spelling on your CV, and also ensure that you are writing in the correct tense. If you are using the third person, stick to it throughout. You can also use spell-checking software or ask a mentor or friend to look over your CV to be absolutely sure you are on the right track.
Passive language
Your resume is your chance to make an impression on a recruiter, so make sure you take full advantage of that with strong action words and a roundup of all the things that make you a great choice for the job.
Too much information
Avoid giving out lengthy information when writing your student CV. Include only positions that are relevant to the job you are applying for. When listing job duties, limit the list to three or four brief examples and include a skill you developed to add relevance.

Resume Format for Students
While it is essential to work on your student resume, it is also important that it is well organized and presentable to the receiver. The following tips are essential for a student resume format.
Your CV must be one or two pages long
Bold and Italics can only be used for heading or key highlights
A neutral font should be used like Times New Romans or Arial
Avoid uncommon designs or mix of colors
Use bullets under the key highlights and sections
Use more than one column and separate the sections clearly to facilitate reading.
Examples of CV for Students
For the purpose of ease and effectiveness, there are numerous resume examples for students available to guide you into creating your own student CV. Let us look into CV samples with free pdf download links attached.
Undergraduate Student Resume Example:
Alicia Cole
569 Parklands Ave. NW, Apt 443
555-555-5555
aliciacole@yahoomail.com

Personal Statement
A dedicated chemistry undergraduate with a year's experience in industrial chemistry. Specialized in condensate analysis, digital chromatography and the use of statistical tools. Looking to improve my knowledge of industrial chemistry research at the quality assurance department of your reputable organization.

Education
Massachusetts State University
Bachelor of Science in Chemistry
Magna Cum Laude
GPA: 3.75                                       
April 2017

Honors and Awards
Dean's scholarship of $3,000 per year

Publications
"Seismic effect of fractal exploration of oil on the American prairie: A meta-study," Submitted for review to the Undergraduate Journal of Industrial Chemistry.
September 2019

Research
Massachusetts State University
Department of Chemistry
Research Assistant
April 2018 – May 2019
Assisted Professor Jorgen Stopes in research on fractal analytics
Helped postdoctoral researchers in data entry and analysis in SPSS
Conducted a field survey to determine the opinion of local communities on a gas project

Employment history
MSU Student Science Club
June 2018-June 2019
Assistant Treasurer
Collected annual dues and issued receipts to club members
Participated in the club executive meetings
Compiled financial records of the club and recommended ways of raising funds
Referred students to appropriate administrative officials when they needed financial assistance

Skills
SPSS
Data analysis
Use of fractional distillation equipment
Fractal analytics

Hobbies and interests
Water sports
Mountaineering
CV Sample for Masters Students
Jason Morgan
88 Creek Avenue
Dallas, TX 75063
435-765-5555
jasonmorgan@yahoomail.com

Professional summary
Motivated and technically competent master's student with 3+ years of research experience in biology. Specialized in specimen preparation and analysis, laboratory practice and SPSS. Seeking a fellowship at your reputable institution to contribute to the body of knowledge in amphibian research.

Education
The University of Texas at Austin, Texas
Master of Science in Microbiology
September 2018-Present
University of Houston, Texas
Bachelor of Science in Biology
April 2012-April 2016

Research
The University of Texas at Austin
Department of Microbiology
Research Assistant
February 2019-August 2019
Collected live specimen of the endangered fork-tongued desert lizard native to northern Texas
Collaborated with doctoral students to design a breeding program to improve the wild stock of amphibian species
Analyzed survey and lab results in SPSS
Served as an assistant to Professor Burton Atlee

Employment history
Jenkins Biotechnologies
Lab Scientist
May 2016-August 2018
Performed laboratory duties, including preparing, dressing and storing specimen
Analyzed biological samples for potential pathogens under sterile conditions
Participated in the genome sequencing on a novel retrovirus for the creation of a vaccine
Managed the laboratory and ensured proper waste disposal

Hobbies
Medical Students CV Example
Download sample CV for Medical Students (pdf)

Engineering Students CV Example
Download sample CV for engineering students (pdf)

Law students CV Example
Download sample CV for Law students (pdf)

Business students CV Example
Download sample CV for Business students (pdf)

Pharmacy students CV Example
Download sample CV for Pharmacy students (pdf)

Nursing students Resume Example
Download sample CV for nursing students (pdf)

Computer Science Students CV Example
Download sample CV for Computer Science students (pdf)

Geology Students CV Example
Download sample CV for Geology students (pdf)

Biochemistry Students CV Example
Download sample CV for Biochemistry students (pdf)

Mass Communication Students CV Example
Download sample CV for Mass Communication students (pdf)

Political Science Students CV Example
Download sample CV for Political Science students (pdf)

Fine Arts students CV Example
Download sample CV for Fine Arts students (pdf)

Biology Students CV Example
Download sample CV for Biology students (pdf)

Business and Management Students CV Example
Download sample CV for Business and Management students (pdf)

Civil Engineering Students CV Example
Download sample CV for Civil Engineering students (pdf)

Economics Students CV Example
Download sample CV for Economics students (pdf)

Film Students CV Example
Download sample CV for Film students (pdf)

Hospitality Management CV Example
Download sample CV for Hospitality Management students (pdf)

Journalism Students CV Example
Download sample CV for Journalism students (pdf)

Zoology Students CV Example
Download sample CV for Zoology students (pdf)

Software Engineering Students CV Example